February 7th, 2014

Leslie Benzies, Dan Houser, and Sam Houser inducted into AIAS Hall of Fame
Published at 1:33 AM PST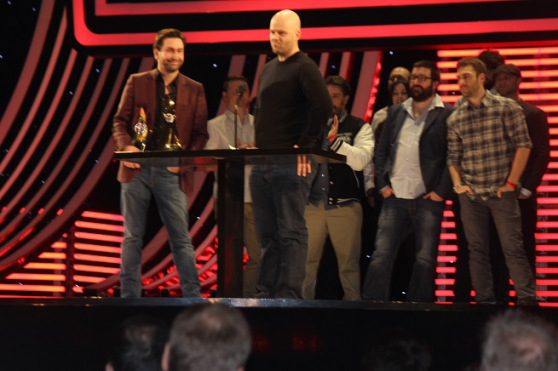 The Academy of Interactive Arts & Sciences (AIAS) inducted Rockstar's Leslie Benzies, Dan Houser, and Sam Houser into the Hall of Fame last night at the 17th D.I.C.E. Awards in Las Vegas.
It is rare to see Rockstar attend an awards show; and even rarer to see several of the most prominent members of the Rockstar team at a single event. This is a special case though, as rather than crediting a single person for Rockstar's success - something that is inherently against the company's foundations - AIAS has honored the founders and president that built, and continue to push, the company.
You'd be hard pressed to find three more important people in the gaming world; especially all working for the same creative, talented and unique company. As VentureBeat notes, only 20 people have received this honor in the history of gaming - so for three people from the same company to receive it at the same time is pretty special. The creative flare that Leslie, Dan and Sam have has to be appreciated, if not just for their efforts, for the environment they've built at Rockstar that has made it such a powerhouse.
Upon accepting the award, Dan said that Rockstar as a whole was touched and that "it made us feel like we were 105 [years old]". He also had some words to say about the Rockstar as a family:
"Rockstar is a family, an occasionally dysfunctional family."
"We all belong and have found a home together. We love games and we love the maniacs who make them."
Congratulations Leslie, Dan and Sam, this is an an honor truly well deserved.
Photo thanks to VentureBeat.